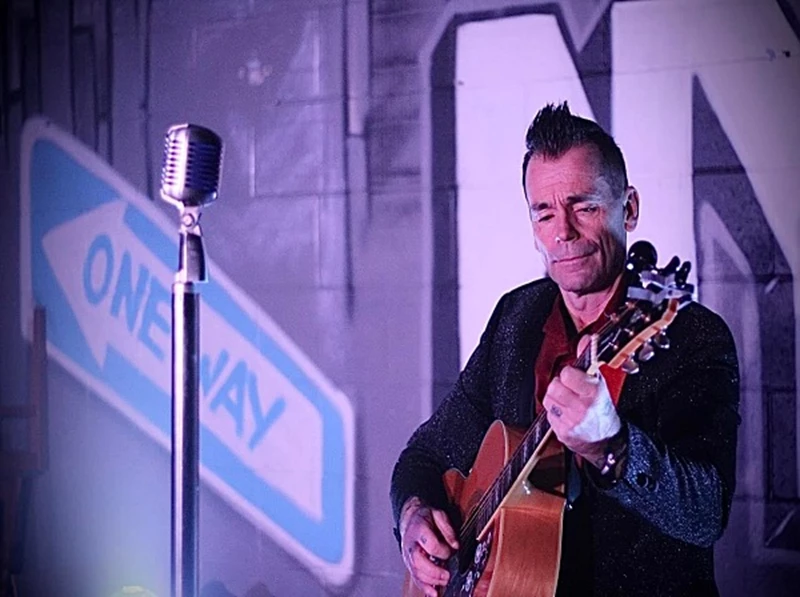 Rock N Roll Rebel - Rock N Roll Tribute Act
Approx price. £500 - £600
Known for his almost-identical Robbie Williams tribute act, Mike Andrew brings you a vintage 1950s sound and style in his all new show, 'Rock N Roll Rebel'...
---
---
About Rock N Roll Rebel - Rock N Roll Tribute Act
Mike Andrew has spent the last 16 years performing his successful Robbie Williams tribute show, twice singing with the man himself and gaining a direct quote from Robbie. However, his love of Rock n Roll and everything 1950s has led him back to his roots. Alongside his Robbie Williams tribute show, Mike has now put together an exciting new show, packed full of classic rock n roll hits!
On stage, Mike Andrew plays guitar and uses only the best equipment for that authentic rock n roll sound and look, including Gretsch guitars for a real 1950's experience, alongside accurate reproduction of 1950s clothing. The 'Rock n Roll Rebel' will have your audience up dancing from start to finish, playing songs by inspiring artists including Eddie Cochrane, Buddy holly, Elvis and many more...
---
Booking Options
Mike can offer a 1 x 60 mins or 2 x 45 mins sets.
---
Song List / Repertoire
20 Flight Rock - Eddie Cochrane
Be My Guest - Fats Domino
C'mon Everybody - Eddie Cochrane
Do The Hucklebuck - Coast to Coast
Don't be cruel - Elvis
Don't key - Elvis
I met her today - Elvis
Fabulous - Cliff Richard
Folsom prison blues - Johnny Cash
Gee Wizz its you - Cliff Richard
Gonna type a letter - Billy Fury
High Class Lady - The Lenerockers
Could Easily Fall In Love With You - Cliff Richard
I love how you love me - Billy Fury
Id never find another you - Billy fury
Its only make believe - Conway Twitty
Jeanie Jeanie Jeanie - Eddie Cochrane
Just Pretend - Elvis
Lucky Lips - Cliff Richard
Maybe Tomorrow - Billy Fury
Move It - Cliff Richard
My One Desire - Ricky Nelson
There'll Never Be Anyone Else - Ricky Nelson
Over The Rainbow/You Belong To Me - Gene Vincent
Party Doll - Buddy Knox
Please Don't Tease - Cliff Richard
Please Mamma Please - Go cat go
Poetry In Motion - Johnny Tilotson
Rama Lama Ding Dong - Rocky Sharpe
Runaround Sue - Dion And The Belmontes
Sea Of Heartbreak - Don Gibson
Shake Rattle And Rob - Bill Haley
Something Else - Eddie Cochrane
Rock This Town - Stray cats
Summertime Blues - Eddie Cochrane
Teenage Heaven - Eddie Cochrane
Teenager in Love - Dion And The Belmontes
The Wanderer - Dion And The Belmontes
The Young Ones - Cliff Richard
Think it Over - Buddy Holly
When You Ask About Love - The Crickets
You're 16 - Johnny Burnette
Blue Suede Shoes - Carl Perkins
Over And Over Again - Bobby Day
Peggy Sue - Buddy Holly
It Doesn't Matter Anymore - Buddy Holly
Come Back My Love - Darts
---
Bistro Live Ltd t/a Henderson Management
Registered in England no. 4106667
Registered office: 89-91 Charles St, Leicester, LE1 1FA.