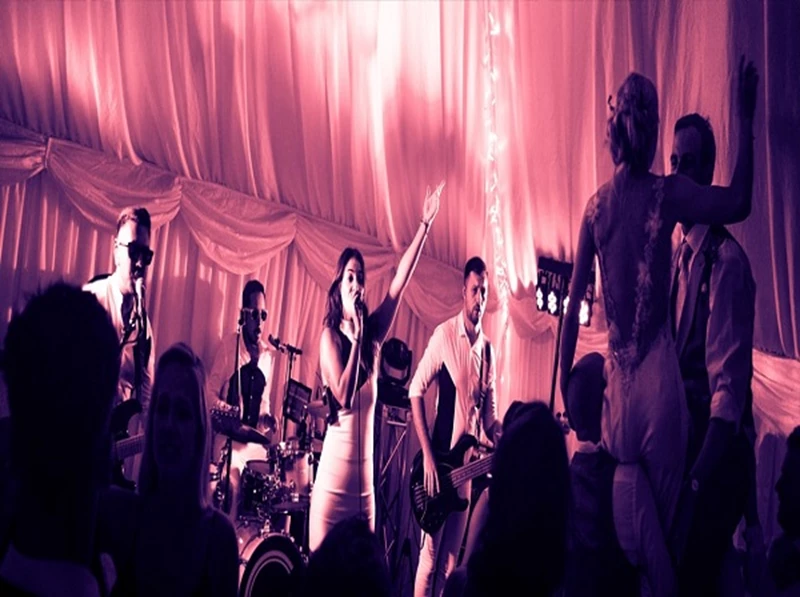 You can find many guides online about how much wedding entertainment costs or how much it is to book a live band for your wedding...
We've seen some that go into quite a bit of detail breaking down costs of 3, 4, 5, 6, 7, 8, 9, 10 piece bands but having read a number of them now, we thought we could dispel a few myths  on some of these price guides but still answeri that key question...
'HOW MUCH DOES A WEDDING BAND COST?'

Henderson Management have been helping customers to choose the perfect live band for their wedding reception for many many years now...
'Just wanted to say that I had a FANTASTIC wedding on Saturday and to pay my compliments to the band who were just great and to Simon the band leader who is just delightful.  Would you please forward my comments to the band and thank them for me. Thank you to you guys as well, you couldn't have picked a better band for us' – Julie Holland
If you're about to set out on what could be a daunting process of choosing the perfect live band for your wedding reception entertainment, you'll have many many questions no doubt (many of which we cover in our handy live band booking guide) but one of THE big questions is 'how much should I pay for a live wedding band?'
A higher price doesn't neccessarily mean a better wedding band but there is certainly a starting price you will want to consider when choosing a great live band.
For example:-
Let's take a group of friends playing some covers down 'the local' on a Saturday night. They are likely to be taking home somewhere in the £250-£500 region. Bear in mind though, that's just for amateur players. Often they will also be performing through what is usually old, fairly average sounding and possibly unreliable equipment. Your average pub band doesn't typically have the know how and the experience required to meet the demands of a very carefully planned out wedding reception.
When you book a professional live band for your wedding reception, they are just that - professionals; who make a living from performing. You're also paying for a professional set-up - they'll have top quality sound systems and they'll perform a set list that is focused on your enjoyment - not a set for their enjoyment!
'SO WHAT IS A STARTING PRICE FOR A GOOD, PROFESSIONAL WEDDING BAND?'
A base price would certainly be around the £1,000 mark...
...tt that sort of price, you are ensuring that the band consists of top-quality, professional musicians that will also be carrying a good quality sound system. Most importantly though, it will be the reassurance that that the band you have booked are incredibly well versed and used to supplying entertainment in your particular setting.
Of course there are factors that can go into affecting a band's price such as:-
NUMBER OF BAND MEMBERS
YOUR EVENT DATE - Fridays and Saturdays are the most sought after dates with weekdays often being less expensive
THE BANDS POPULARITY - a busy, in demand wedding band can often mean a higher price
The number of band members is an interesting one though. We've seen many guides online that in great detail map out price brackets from 3 to 10-piece bands. Our advice, take some of these price guides with a pinch of salt as you really can't apply that set of rules across the board. Keep it simple and aim for £1000 bottom line, towards the top end £2000 and beyond and as an average, around £1500.
If you need any help or advice choosing your entertainment for your event, give us a call on 0116 242 9900 or click here
To see our great line-up of live bands and party bands, click here.